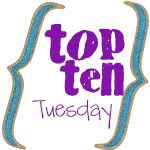 Today is Top Ten Tuesday. Tonight begins the final season of Lost.
Think it's just a coincidence? Maybe.
But then again, maybe not.
Was it a coincidence that Lost was available on Netflix Instant Watch so I could
get forever and completely addicted to the best show in the history of television!
get caught up on the first four seasons while I was up at night with a newborn last fall? Maybe.
But the fact that season five became available
two days after I finished season four????
Maybe.
Or maybe the island wanted it that way.
Okay, I'll stop with the melodrama. But seriously, could I have let this day pass without offering up my own Lost tribute? I think not.
One of the innumerable things I love about Lost is the humor that intertwines its way through the scenes like a smoke monster through the jungle. Some of the comedy is obvious, some much more subtle. I could give endless examples, but here are a few bits that tickle my (occasionally bizarre) sense of humor.
1. Season 1 - Pilot, Pt.2
Sawyer: "I saw a guy lying there with an ankle holster, so I took the gun. Thought it might come in handy. Guess what? I just shot a bear!"
Kate: "So why do you think he's a marshall?"
Sawyer: "Because he had a clip-on badge. I took that, too. Thought it was cool."
2. Season 1 - Solitary
Jack: "Hurley, you built a golf course?"
Hurley: "Rich idiots fly to tropical islands all the time to whack balls around."
Michael: "All the stuff we gotta deal with, man, this is what you've been wasting your time on?"
Hurley: "Dudes, listen. Our lives suck! Everyone's nerves are stressed to the max. I mean, we're lost on an island, runnin' from boars. And monsters. Freakin' polar bears!"
Michael: "Polar bears?"
Charlie: "You didn't hear about the polar bear?"
3. Season 1 - Numbers
Hurley: "Dude, do not do that right now! Leave the bulb for another time, man."
4. Season 2 - Man of Science, Man of Faith
John: "Jack thinks I'm crazy, doesn't he?"
Kate: "Why? Because you want to drop into a hatch that's been locked from the inside by a foot-thick steel door that says 'Quarantine'?"
John: "Well, look at the bright side. The damage is done."
Kate: "Bright side."
John: "And if Jack thinks I've lost it, I can't blame him, really. Then again, five hours ago I
was
pulled into a hole by what appeared to be a column of black smoke."
5. Season 3 - A Tale of Two Cities
Tom: "Hey! You got yourself a fish biscuit! How'd you do that?"
Sawyer: "I figured out your complicated gizmo, that's how."
Tom: "Only took the bears two hours."
6. Season 3 - Tricia Tanaka Is Dead
Sawyer: "Son of a...What's a head doin' back here?"
Hurley: "Oh, that's just Roger."
7. Season 4 - The Other Woman
Juliet: "You knew this would happen. You sent him out here because you knew this would happen. You wanted this, you wanted him to die! Why?"
Ben: "Why? You're asking me why?!? After everything I did to get you here, after everything I've done to
keep
you here, how can you possible not understand.....that you're
mine
. (long pause) Take as much time as you need."
8. Season 4 - There's No Place Like Home
Ben: "Am I interrupting?" (Jack points a gun at him.) "Nice to see you too, Jack." (Ben walks past Jack towards John.) "Couldn't find the antheriums, could you?"
John: "I don't know what they look like!"
9. Season 5 - Because You Left
Hurley: "Want a fry?"
Sayid: "No, thank you."
Hurley: "You know, maybe if you ate more comfort food, you wouldn't have to go around shooting people."
10. Season 5 - Because You Left
Richard: "Pay attention. Next time we see each other, I'm not gonna recognize you, alright? You give me this. Alright?"
John: "What is this?"
Richard: "It's a compass."
John: "What does it do?"
Richard: "It points north, John."
Yes, I have a twisted sense of humor. But it's better than none at all, right?